Tasmanian Seed Dressing & Storage Company has been operating since December 2012. We clean a large range of crops including; Ryegrass, Peas, Linseed, Lentils, Hemp and Cereals.
Our close proximity to major highways, allows for easy access to all distribution networks.
We enjoy a lot of the same clientele as our parent company in New Zealand, South Island Seed Dressing and we are always striving to increase returns for the Tasmanian Arable Farmers.
Morgan Leath
Manager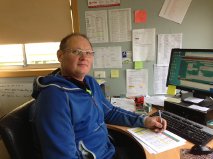 Morgan entered the grain and seed industry soon after leaving school. He trained in seed cleaning before entering into a supervisory role within the industry. The next stage of his life saw him entering the New Zealand Police where he obtained the rank of Detective. A change of lifestyle saw Morgan and his family return to Canterbury where, through a continued association with South Island Seed Dressing, an opportunity arose with the expansion of South Island Seed Dressing into a Tasmanian acquisition.
Morgan was appointed Operations Manager of Tasmania Seed Dressing and Storage and leads a progessive team in the future growth of the business.